Click here to watch Dr. Bardaro and another patient talk about the benefits of weight loss surgery. 
Thinking about weight-loss surgery? The first step to a healthier you is to attend MetroHealth's weight-loss surgery seminar. You can attend in person or watch a video online. Our seminars are free and open to the public. We will provide you with the information you need to make an educated decision about your health and whether surgery is right for you.
To register, visit metrohealth.org/bariatric-surgery-seminars. Or to learn more, call 216-778-7433.
---
Nora Lopez is a special education teacher at Garfield Heights City Schools, an active mother of two, a step-mother of one, and step-grandmother of three. But, five years ago her weight – at more than 280 pounds – was causing a considerable amount of fatigue and knee pain and was interfering with her daily life.
When her primary care doctor talked to her about bariatric surgery five years ago, Lopez didn't think she was ready. And, while she had been overweight her whole life, Lopez considered herself to be lucky because she didn't have obesity-related conditions yet such as high blood pressure or diabetes.
"Typically, people consider bariatric surgery when obesity is interfering with everyday activities," says Sergio Bardaro, MD, director, Weight-Loss Surgery & Weight Management Center. "Some patients may have trouble getting in and out of their car, fitting in an airplane seat, or running after their kids in the park." The surgery is also a good option for people who are obese with related health conditions.
Lopez decided to undergo weight-loss surgery in 2014. She started the process with Eileen Seeholzer, MD, medical director, Weight Loss Surgery & Weight Management Center at MetroHealth.
"Dr. Seeholzer was really great," says Lopez. "She spent a lot of time having me tell her what my day was like. She went over my routine to figure out ways I could start implementing some healthy lifestyle changes."
At the time, Lopez's husband worked long hours in construction, so she was responsible for looking after the kids and making sure they kept up with their homework and activities. Dr. Seeholzer understood that Lopez's many commitments were making weight management a challenge.
"So, we started with some little changes," says Lopez. "I hate to cook, but we would talk about what I could easily assemble for a healthy lunch." She also started drinking protein shakes in the morning instead of skipping breakfast and stopped eating fast food. These changes helped her drop 30 pounds before her weight-loss surgery.
The procedure was performed by MetroHealth's Jeffrey Claridge, MD, who is also part of the weight-loss surgery team. The surgery took place over Lopez's Christmas break — she was in the hospital for about three days and back to work in less than a month.
"Within a couple weeks after going back to work, I was up and down the stairs at least twice a day," says Lopez.  Even better, she eventually lost about 120 pounds, making her a candidate for knee surgery.
"I'm not tired anymore," she says.  Lopez is more active now and able to exercise and travel. "Last year I went to Maryland with my mom and sisters and did some hiking and walking." She also works out with her youngest son.
"I have nothing but praise for everyone I have dealt with at Metrohealth. They made me feel better now about the time I spend with my kids. And, I also feel better about myself."
---
Weight-Loss Surgery Q & A
Sergio Bardaro, MD, Director, Weight-Loss Surgery & Weight Management Center
Our expert team will coach you on the lifestyle changes you will need to make so that you can achieve your goals to live a healthier life. It is important for our patients to know that bariatric surgery is just a tool to enable you to improve your health. Your journey does not end after surgery; diet along with exercise and behavior change will help you maintain your weight loss.
Q. What is bariatric surgery?
A. For bariatric surgery, we create a smaller stomach pouch to decrease the amount of food people eat to help them lose weight. Afterward, people feel full even though they are eating less.
Q. What other conditions does bariatric surgery treat?
A. Because the surgery helps you lose weight, it treats metabolic problems like diabetes, high blood pressure and high cholesterol. In some cases, diabetes goes away after surgery. It can also help improve sleep apnea and gastric reflux. And, because losing weight decreases the risk of cardiovascular disease and stroke, the surgery can prolong your life.
Q: What Body Mass Index (BMI) makes someone eligible for surgery?
A: According to the National Institutes of Health, patients with a BMI of 35 or more and with a weight-related medical condition, or comorbidity, are eligible. So are people with a BMI of 40 or more without a comorbidity.
Q: Is surgery more effective than other methods of weight loss like exercise and nutrition?
A: With diet and exercise alone, people tend to lose about 6 percent of their excess weight. With bariatric surgery, patients lose about 50 to 70 percent of their excess weight, and they are more likely to keep this weight off.
Q: Are diet and exercise still an important part of weight loss surgery?
A: Yes. People who undergo weight loss surgery also need to make lifestyle changes such as getting more exercise and eating nutritious foods such as fish and vegetables. These habits help them to live a healthier life.
Q: Why should people come to MetroHealth for their weight-loss surgery?
A: At MetroHealth, we help patients become good candidates for surgery by educating them about the procedure and helping them make necessary lifestyle changes. We also stay committed to our patients for life. We offer weight management support and counseling long after surgery is over.
We are also a Center of Excellence accredited by the Metabolic and Bariatric Surgery Accreditation and Quality Improvement Program (MBSAQIP).
Contributor: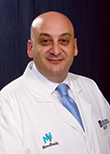 Sergio Bardaro, MD  
Director, Weight-loss Surgery & Weight Management Center